Vinex Pool and TT Table - ETOS is the ultimate game table that will keep you and your family entertained for hours! With its unique 2-in-1 design, you can enjoy both pool and table tennis on the same table, making it the perfect addition to any game room or rec space.
Vinex Pool Table comes with a table tennis board that fits perfectly on top of the pool table surface, allowing you to seamlessly switch between pool and table tennis games. The table tennis board is easy to install and remove, making it a breeze to switch between games as often as you like.
Pool Table made of MDF with good quality fabric on top. Levelers for level adjustment for a genuine playing experience. TT Table made of laminated MDF.
Pool Table Size: 213 CM x 118 CM x 78 CM
Pool Table Playing Area: 188 CM x 94 CM
T.T. Board Size: 213 CM x 118 CM
Cues: 2 Pcs 144 CM (L)
Pool Balls: 1 Set of 57 MM Balls
Triangle: 1 Pc Plastic
Chalks: 2 Pcs
Brush: 1 Pc
TT Stand / Net: 1 Set
TT Balls: 2 Pcs
TT Rackets: 2 Pcs

Assembly of Table: Assembly of product table is not included. Assembly to be done by customer.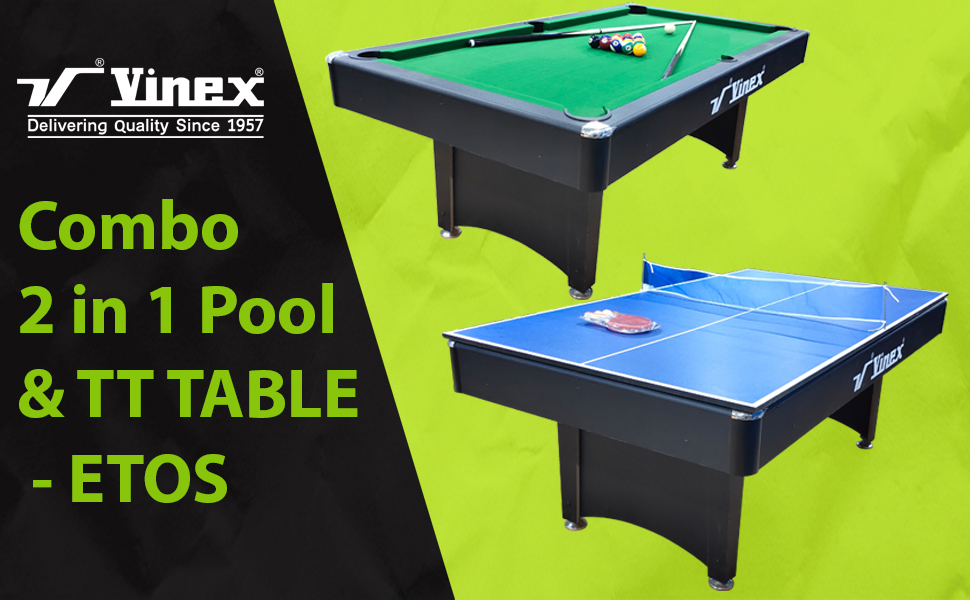 Whether you're a pool table player or a table tennis table player, Vinex Pool and TT Table - ETOS is sure to provide hours of fun and excitement for you and your family. So why wait? Order yours today and start enjoying the best of both worlds!
Feel Free To Contact Us:
Thank you for your interest in Vinex Sports & Fitness Products. Please provide the following information about your needs to help us serve you better. This information will enable us to route your request to the appropriate person. You will receive a response within 24 hours.